ABOUT US
The 3rd Klumov clinical hospital is based on September 30, 1828. For years of the existence it has passed a difficult way of development from 50-bed hospital to multi-field clinic, capacity of 540 beds consisting of 22 medical-diagnostic departments. In the hospital 3 city centers function: city ophthalmologic advisory center, center of coloproctology, and also interdistrict endoscopic center. On the basis of departments are located and work the department of the general surgery and eye diseases BSMU, department of therapy and a course of reproductive medicine of department of obstetrics and gynecology of Belarusian Medical Academy of Postgraduate Education .
In clinic you can receive the highly skilled help, we carry out conservative treatment of therapeutic (cardiological, pulmonary and the gastroenterological) patients; are carried out microsurgical and all-surgical, with use of laparoscopic equipment, operation; treatment of pregnant women and women in childbirth with the existing infectious pathology is carried out, medical and diagnostic endoscopic and laser methods are widely applied.
In clinic the fine microclimate which allows to carry out the tasks set for health care of our country is created. We are always ready to undertake care of your health and to provide professional medical care.
---
Chief physician: Sayevich-Oficiere Natallia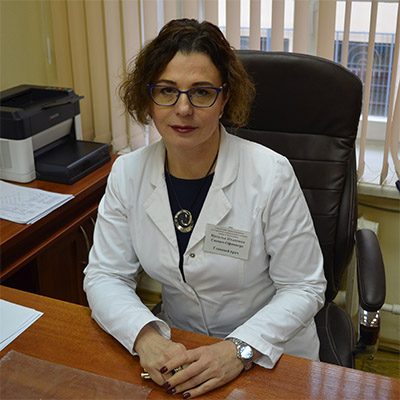 Ph. +375 (17) 327-21-02
Reception of citizens:
1,3,5 Thursday of month, 08.00am - 13.00pm
2,4 Thursday of month, 15.00pm - 20.00
the 3rd Saturday of month, 09.00 - 12.00
Reception: ph. +375 (17) 327-12-16. ph./fax +375 (17) 327-21-02
E-mail: Этот адрес электронной почты защищён от спам-ботов. У вас должен быть включен JavaScript для просмотра.
---
On the basis of healthcare facility function:
City center of coloproctology
City ophthalmologic consulting and diagnostic center
The city center for pregnant women with sharp surgical pathology of abdominal organs
Endoscopic  advisory -  diagnostic center of Leninsky district
Department of surgery BSMU
Department of ophthalmology BSMU
Department of obstetrics and gynecology of Belarusian Medical Academy of Postgraduate Education
The list of the carried-out services:
Laparoscopic operations and operations of mini-access on abdominal organs;
Wide ranges of endoscopic researches and operations;
Treatment of stomach ulcer and diseases of organs of vision by means of the laser;
Use of the laser for prevention of infectious complications of postoperative wounds;
Ultrasonic diagnostics;
Microsurgeries in the eyes;
Conservative and expeditious treatment of diseases of a large intestine;
Laboratory researches, including laboratory diagnosis of toxoplasmosis.
The list of the rendered paid services
Consultations of the qualified medical specialists (the gynecologist, the proctologist, the ophthalmologist, the gastroenterologist, the pulmonologist, the cardiologist) - are accepted by doctors of the first, highest qualification categories, candidates of medical sciences.
Radiological researches (organs of a chest cavity, abdominal organs, bone and articulate system);
Ultrasonic diagnostics (echocardiography, ultrasonography of abdominal organs, kidneys, ultrasonography of pelvic organs, ultrasonography of a thyroid gland, ultrasonography of fetus, echocardiography of fetus, Doppler scanning of vessels of fetus and uterus);
Laboratory diagnostics (general blood test, general analysis of urine, biochemical researches);
Endoscopic researches (rectoscopy, colonoscopy, fibrogastroscopy, laparoscopic sterilization at the request of the patient);
Massage procedures (massage of the head, neck, collar zone, top extremities, backs and waists);
Functional researches (electrocardiography, rheovasography, rheoencephalography, Holter recording, 24-hour blood pressure monitoring ,research of function of external breath)
The list of the modern techniques used in medical and diagnostic process with use of unique medical technic and equipment:
Endoscopic papillosphincterotomy
Extraction of stones of choledochus
Vitreoretinal technologies in surgical treatment of diseases of retina and vitreous
Phacoemulsification with implantation of soft intraocular lenses – ALcon
Optical coherent tomography of a back piece of eye - the optical coherent tomography of a back piece
Optical coherent tomography of a forward piece of eye - the optical coherent tomograph of a forward piece
Automatic refractometry
Contactless tonometry
Computer static perimetry – the analyzer of field of vision
Vitreoretinal technologies in surgical treatment of diseases of retina and vitreous
Research of eyeground with use of the fundus-camera
The laser scanning perimetry of optic nerve - optical field perimeter of nerve fibre layer
Research of eyeground with application of the forehead ophtalmoscopes
Automatic refractometry
Phacoemulsification with use of the combined systems and implantation of soft intraocular lenses
Vitreoretinal technology in surgical treatment of diseases of retina and vitreous, injuries of organ of vision
Modern methods of treatment of hormonal infertility, much component intensive therapy at hyper stimulation of ovaries